Publications
Madagascar Green Healthy Communities: Final Report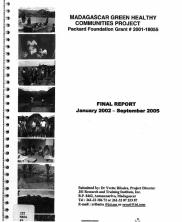 The Madagascar Green Healthy Communities Project aimed to improve the health, nutritional status, and environment for the Malagasy population affected by problems caused by rapid demographic growth, slow economic growth, and the unsustainable use of resources in the country.
Implemented between 2002 and 2005, MGHC targeted rural, hard-to-access communities and impacted the lives of 17,920 people in 2,986 households. The project was able to improve health outcomes and household incomes, and improve the local management of natural resources. Madagascar green Healthy Communities/JSI, 2005
Read the full report on the Madagascar Green Healthy Communities project, its successes, outcomes, and lessons learned.
Download (PDF, 517 KB)