Publications
Building Capacity, Building Communities: Hanan Mother Child Health and Nutrition Project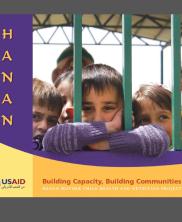 The Hanan project supported clinic and community responses to improve Palestinian women's and children's health. A collective effort of wide ranging institutions, organizations and individuals, Hanan owed its success to their outstanding contributions, spirit of partnership, and commitment to Palestinian communities.
Presented here are the program strategies and approaches that were used to introduce clinical service quality improvements, mobilize communities, and communicate key health messages for women and children.
Building Capacity, Building Communities features Hanan's program experience. It is meant as a companion piece to
the project website
, where you can access and download Hanan's tools, data, products, and other publications.
Download (PDF, 2.93 MB)