Publications
PAIMAN Project Completion Report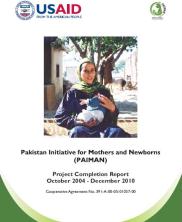 This report presents the accomplishments from the USAID-funded Pakistan Initiative for Mothers and Newborns (PAIMAN) project. PAIMAN assisted the Government of Pakistan to implement the full spectrum of interventions necessary to address maternal and newborn health issues in Pakistan. PAIMAN reached 5.7 million beneficiaries—women and their families, as well as the health care providers who serve them—in some of the most remote areas of the country.
PAIMAN built capacity to deliver health services. The project:
Provided grants to 98 NGOs in hard-to-reach areas; strengthened financial capacity, management systems, and technical skills

Trained 120 district health managers

Strengthened decentralization process

Built capacity of journalists to better highlight maternal and child health issues

Improved the skills of over 4500 health care providers to build the indigenous capacity of the Ministry of Health
The project increased access to maternal and child health services:
Trained 6500 Lady Health Workers (LHWs) in improved child health methods

Trained over 2000 community midwives

Worked with medical schools to enhance their training

Created 1100 "midwifery homes" that place midwives in remote areas and link communities to health facilities

Provided 126 ambulances and trained drivers and paramedics to provide emergency care
And improved the quality of services:
Upgraded 88 health facilities to provide services 24/7

Ensured that even remote facilities had trained staff available

Improved infection prevention at facilities

Built or upgraded 13 birthing centers in remote areas—including conflict zones

Created 80 well-baby clinics and 145 oral rehydration therapy corners
PAIMAN was led by JSI with Aga Khan University, Contech International, Greenstar Social Marketing, JHU Center for Communications Program, the Pakistan Voluntary Health Nutrition Association, the Population Council, and Save the Children US.
Download (PDF, 22.06 MB)