Publications
GAIN Working Paper Series No. 3: Using the Code of Marketing of Breast-milk Substitutes to Guide the Marketing of Complementary Foods to Protect Optimal Infant Feeding Practices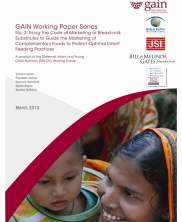 The
Global Alliance for Improved Nutrition
found that many questions exist on how the International Code of Marketing of Breast-milk Substitutes applies to the marketing of commercialized complementary foods and supplements, an intervention area that has gained both increased attention and investment over the past years, to ensure that optimal breastfeeding practices are protected and promoted.
An urgent need was felt as already-private companies are producing complementary food and supplement products in areas of the world where undernutrition rates are high and infant feeding practices fragile and suboptimal at best. Therefore, it was felt that some guidance was needed, even if preliminary and incomplete, that could provide governments, private companies and other interested groups basic information on the appropriate marketing of complementary foods and supplements that would also ensure the protection and promotion of optimal infant feeding practices.
This Working Paper is designed to assist commercial enterprises, relevant government offices, and other interested groups to appropriately market complementary foods and supplements in a manner that promotes and supports optimal breastfeeding during the first two years of life. Victoria Quinn, Elizabeth Zehner, Dominic Schofield, Agnes Guyon and Sandra Huffman. GAIN Working Paper Series, March 2010.
Download (PDF, 765 KB)