News @ JSI
JSI Presents at EPIC Immunization Costing Workshop
May 23, 2016
As part of the EPIC project, the Harvard T.H. Chan School of Public Health hosted a workshop, "Immunization Costing: what have we learned, can we do better?" on May 17-18, 2016 in Washington, DC. The event featured researchers, global health organizations, and country immunization managers, who participated in panel discussions, presented country-level findings of immunization program costing studies, and discussed ways to improve future research.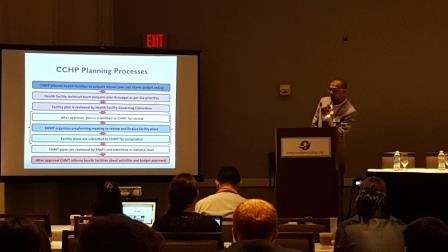 JSI's Nassor Mohamed presents on using the Reaching Every Child micro-planning tool to estimate immunization budgets in Tanzania.
Several JSI staff participated in the workshop. As part of a panel discussion entitled "Sustainable institutional linkage and improving immunization program implementation," Senior Technical Officer Lora Shimp provided examples and field perspective on how the EPIC costing studies and data can be applied to country immunization programs. In addition, Immunization Technical Officer Nassor Mohamed presented work from Tanzania completed under USAID's flagship
Maternal and Child Survival Program (MCSP)
. Nassor's presentation, "
Using the Reaching Every Child (REC) Micro-Planning Tool to Estimate Immunization Budgets in Tanzania
," detailed technical support that MCSP/JSI is providing to adapt a micro-planning and immunization costing tool that will help facilities and councils to more thoroughly estimate budgets and logistics for routine immunization service delivery in Tanzania. The user-friendly, Excel-based tool includes standard templates and guidance (that can be manually completed) to enable program managers and heads of the health facilities to estimate budgetary and immunization program operational requirements more realistically and from the bottom upward. The tool and immunization planning and budgeting process are being used with councils in Muleba District (in Kagera region) to develop facility plans and estimate budget needs for immunization services in 2016-2017. This process is already contributing to improvement in immunization services in Muleba and is anticipated to be adaptable more broadly for facilities and districts throughout Tanzania in the future.
From JSI experience in Ethiopia, endline findings from an immunization costing exercise completed under the
Universal Immunization through Improving Family Health Services
project were presented by consultant Professor Damen Haile Mariam, who analyzed immunization costs in three woredas (districts) of Ethiopia and the cost of scaling up immunization performance. This study reinforces previous evidence that routine immunization in pastoralist settings requires additional resources, and will help inform the Federal Ministry of Health's planning and budgeting for routine immunization services.
For additional resources and to learn more about EPIC, visit
www.immunizationcosting.org
. To learn more about JSI's work improving immunization systems worldwide,
visit our website
.