News @ JSI
Liberian President Ellen Johnson Sirleaf meets with Joel Lamstein, President of JSI
April 24, 2013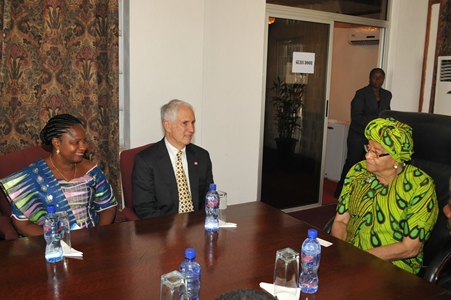 President Sirleaf (right) praised JSI's work helping rebuild the capacity of the Liberian civil service.
On April 23, 2013, Liberian President Ellen Johnson Sirleaf met with JSI representatives, including JSI President, Joel H. Lamstein, to endorse the transition of the
President's Young Professionals Program (PYPP)
to country ownership by 2016. The JSI-led capacity development program will shift to an integrated and country-led program, turning ownership over to the Civil Service Agency (CSA) over the next three years.
Launched by Her Excellency President Sirleaf in 2009, the PYPP is one of Liberia's most competitive programs for leadership in civil service. This two-year program aims to recruit, train, and prepare promising and talented Liberian college graduates for a future in public service. The program's long term goal is to create the next generation of qualified professionals who are committed to working for the Government of Liberia. On behalf of the Government of Liberia (GoL), the newly appointed Director General George Werner from the CSA, and Joel Lamstein will sign the plan to transition the program in 2016.
Currently, 63 young professionals enlisted in the program are strengthening the capacity of 10 ministries and four agencies in Liberia. Recruited from all major universities in Liberia, the program has a gender breakdown of 56% female and 44% male, and boasts a 100% retention rate. Many graduates from the program are actively employed by the government, including the first and second classes of PYPs who were fully absorbed by Liberia's Civil Service Agency. Many young professionals now serve as mentors to incoming classes of young professionals, while others have pursued graduate studies, after which they will return to Liberia.
With increasing economic growth and political stability, Liberia is in transition from post-conflict reconstruction to medium-term growth and poverty reduction. Local responsibility for development and capacity-building has increased with an overall shift to country ownership as a model for sustainability. The significant impact that this program has had on the ministries, agencies, and government personnel makes the program an essential component of Liberia's strategy to strengthen public sector capacity—aligning with the National Capacity Development Strategy and closely coordinated with Liberia's Civil Service Agency and the Ministry of Planning's (MoP) Capacity Development Unit.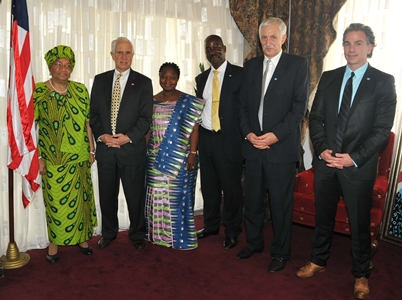 From left to right, H.E. President Sirleaf, Joel Lamstein, Rose Macauley, Saah N'Tow, Theo Lippeveld, Frank DeSarbo
In her 2013 Annual Address to the 53rd National Legislature of the Republic of Liberia, H.E. President Sirleaf commended the work and impact of the institutional capacity building program, stating, "An ongoing program, the President's Young Professionals Program, aims at training young graduates for our civil service. The program has proven to be an innovative program to build leadership, respond to capacity gaps, and employ promising Liberian graduates. It remains an essential component of our strategy to strengthen public sector capacity."
The concept of country ownership has been widely endorsed by JSI Research & Training Institute, Inc., PYPP donors, and the government of Liberia.
With a generous grant from the Hess Foundation*, the program is managed by JSI Research & Training Institute, Inc.—a US-based global health and development consulting firm with over thirty-five years of experience in program management and implementation.
*The Liberia President's Young Professionals Program is made possible by the support of the Hess Foundation, Scott Family Foundation, McCall MacBain Foundation, Humanity United, Nike Foundation, Open Society Institute, NoVo Foundation, Belinda Stronach Foundation, Daphne Foundation, Mailman Family, Simonds Family, and the U.S. Agency for International Development.

Learn more about JSI's work strengthening Liberia's health systems.