News @ JSI
JSI's Integrated Family Health Program featured in article on USAID's Frontlines
June 20, 2012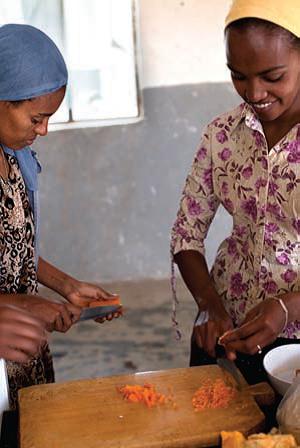 IFHP community health worker gives lesson on how to prepare nutritious porridge.
JSI's
Integrated Family Health Program (IFHP)
in Ethiopia is featured in an article on USAID's online magazine,
Frontlines
. The article, entitled
"The Female 'Army' Leading Ethiopia's Health Revolution,"
discusses the many ways that health extension workers are transforming Ethiopia's health system and saving lives in Africa's second-most populous nation.
This revolution was spurred by the introduction of the Government of Ethiopia's Health Extension Program (HEP) in 2003, which was designed to overcome health system challenges posed by Ethiopia's mostly rural, hard-to-access population. Through this innovative program, thousands of young women are trained and employed to collect essential data and provide referals and preventive health care to millions of people across every woreda in Ethiopia. The system links people through health extension workers at community health posts—the lowest level of service delivery—to larger, regional health centers, and ultimately to one of Ethiopia's 122 hospitals.
IFHP, launched in 2008, supports HEP in six of Ethiopia's nine regions and offers integrated child and reproductive health care services to a population of 32 million. The project was designed to provide a range of services to address all of a family's health needs in one place so that, for example, a mother who brings her child into a clinic for a vaccination may also be tested for HIV, receive family planning counseling, access contracpetives, and more—all in one visit.
Read the article,
"The Female 'Army' Leading Ethiopia's Health Revolution,"
to find out more about how the
Integrated Family Health Program
and other USAID-funded initiatives are supporting HEP in revolutionizing Ethiopia's health system.