News @ JSI
JSI Fulfills Every Woman Every Child Commitments
July 17, 2017
In 2015, JSI made a five-year commitment to scale up activities on immunization, maternal, newborn, and child health, logistics services, nutriti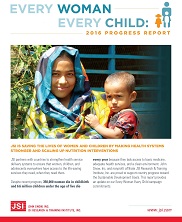 on and health management information systems in support of the Every Woman Every Child Global Initiative. Over the last year, we've partnered with the public and private sector to strengthen health service delivery systems to ensure that women, children, and adolescents everywhere have access to the life-saving services they need, when they need them.

Despite recent progress, 350,000 women die in childbirth and 6.6 million children under the age of five die every year because they lack access to basic medicine, adequate health services, and a clean environment. John Snow, Inc. and nonprofit affiliate JSI Research & Training Institute, Inc., are proud to support country progress toward the Sustainable Development Goals.

We've documented how our projects have worked to achieve these commitments in 2016. Download the 2016 report to learn more about our work.