News @ JSI
Building Evidence on Domestic Violence
July 14, 2017
Since 2015, JSI has partnered with Blue Shield of California Foundation to strengthen the business case for partnerships between domestic violence (DV) and health care organizations. As part of this work, JSI conducted a literature review to determine the range of intermediate health and patient-centered outcomes on the path from services and interventions to health care utilization and costs. A strong body of evidence is critical to ensure the sustainability of DV services and interventions in the long term.

Figure 1. The Pathway from DV Risk to Intervention Impact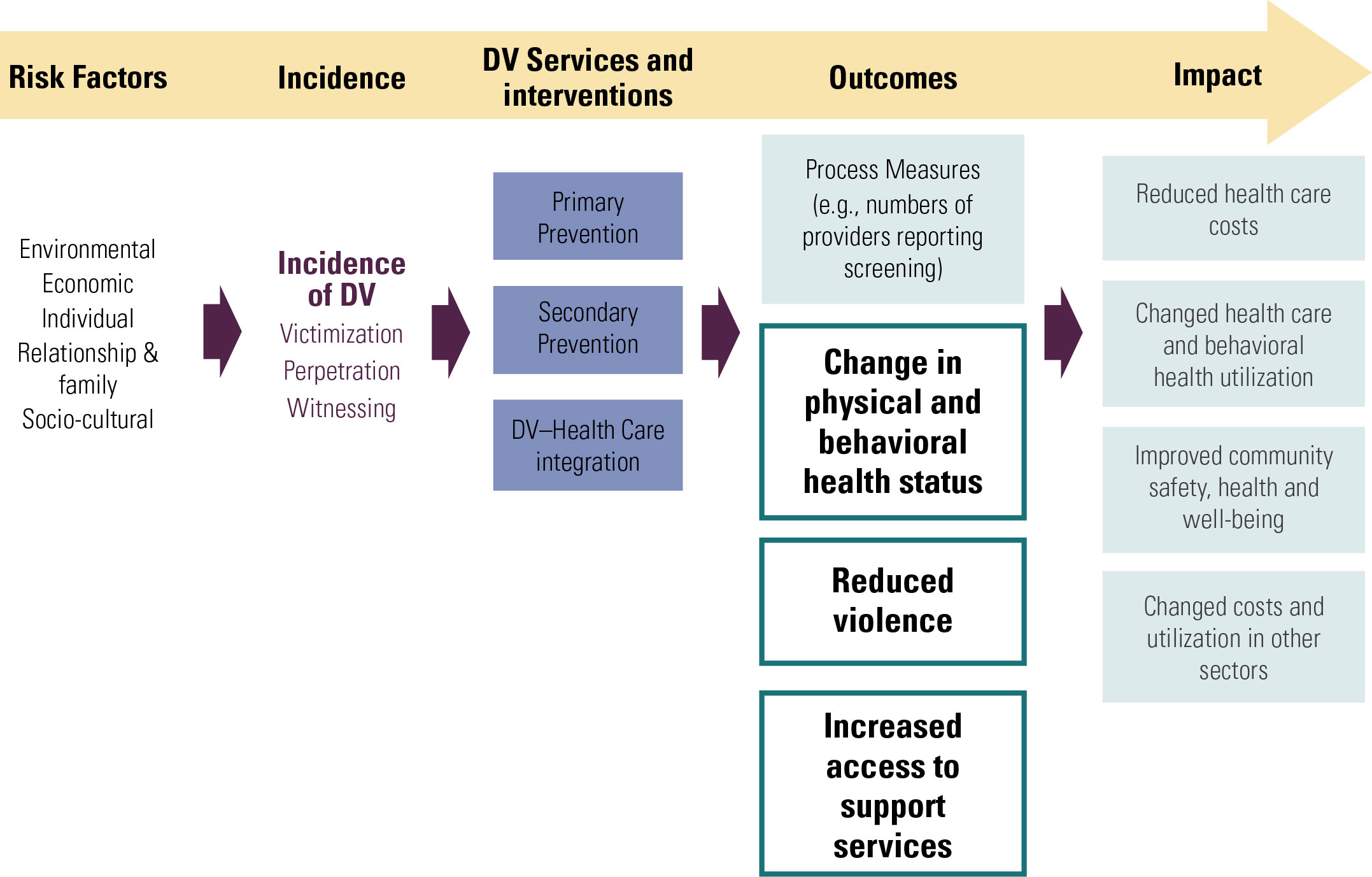 Our review sought to answer the following questions:
What intermediate outcomes lie along the pathway from DV services to health care utilization and costs that are meaningful from multiple perspectives (e.g., patients/clients, communities, public and private sector payers)?
Which outcomes could DV health care partnerships and other community and/or clinic-based services and interventions readily measure with their current resource and capacity constraints?
The resulting report, "
Building the Evidence for Domestic Violence Services and Interventions: Intermediate Health and Patient-Centered Outcomes,"
discusses outcome categories most commonly used in the literature, includes findings from real-world evaluations of DV programs, and provides an evaluation planning tool that programs can use to develop approaches to routinely monitor and document the value and effectiveness of their services.
Our review establishes that there is a set of outcomes that are readily measurable, reflect the potential impact of a range of DV services and interventions, and are less susceptible to the challenges of longitudinal follow-up with DV survivors. Building on the existing literature to form a solid and persuasive evidence base is critical to elevate DV in policy- and practice-change discussions and secure additional resources to mitigate and prevent DV.
Read more about JSI's
Making the Business Case for Domestic Violence and Health Care Partnerships
project.