News @ JSI
JSI's cStock Featured in WHO's mHealth Guide
March 31, 2017
The hallmark of an efficient and agile supply chain is having visibility of high quality data from the top to the bottom of the system. Various mHealth tools have been developed to address this need so that key supply chain stakeholders, from policy makers to service providers, have the data that they need to serve their clients.
Since 2011, the World Health Organization (WHO), in collaboration with the UNF and other key stakeholders, invested in numerous innovation projects to test the use of mobile and digital health technologies. JSI received one of these grants to scale
cStock
, a RapidSMS, open-source, web-accessible logistics management information system for community-level health products in Malawi (think: CCM, FP and HIV testing).
"Over the past five years, substantial progress has been made in defining terms around the landscape of digital, mobile and wireless technologies for health, or digital health – also commonly referred to as mHealth or eHealth. Broadly, digital tools are increasingly being tested, evaluated and, in some instances, integrated at scale into health systems in low- and middle-income countries," World Health Organization.

The World Health Organization just released their resource,
Monitoring and Evaluating Digital Health Interventions: A practical guide to conducting research and assessment
, which harmonizes the learnings from these innovation grants through the lens of monitoring and evaluation (M&E). The guide provides step-by-step guidance on M&E efforts specifically for mHealth or eHealth interventions from defining technical requirements to implementation and reporting.
cStock is featured as a program that works with providers and clients at several levels of the health system to reduce drug stock-outs and thus measures and monitors key indicators at various levels. WHO also featured a cStock's program dashboard which uses real-time data to provide managers with the tools they need to make data-driven decisions in real time, including alerts, stock-out rates and current stock status. JSI staff Sarah Andersson, Yasmin Chandani, Megan Noel and Mildred Shieshia are featured as key providers of programme content on logical frameworks for digital health solutions for cStock.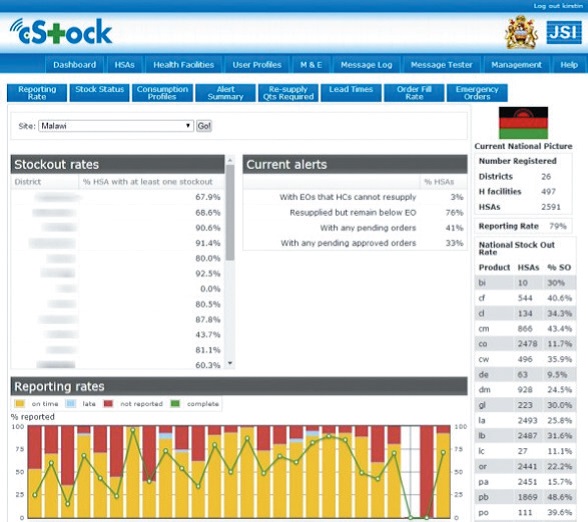 cStock program dashboard