News @ JSI
JSI partners with Ministry of Health and Social Welfare to lead Ebola response in Liberia
November 6, 2014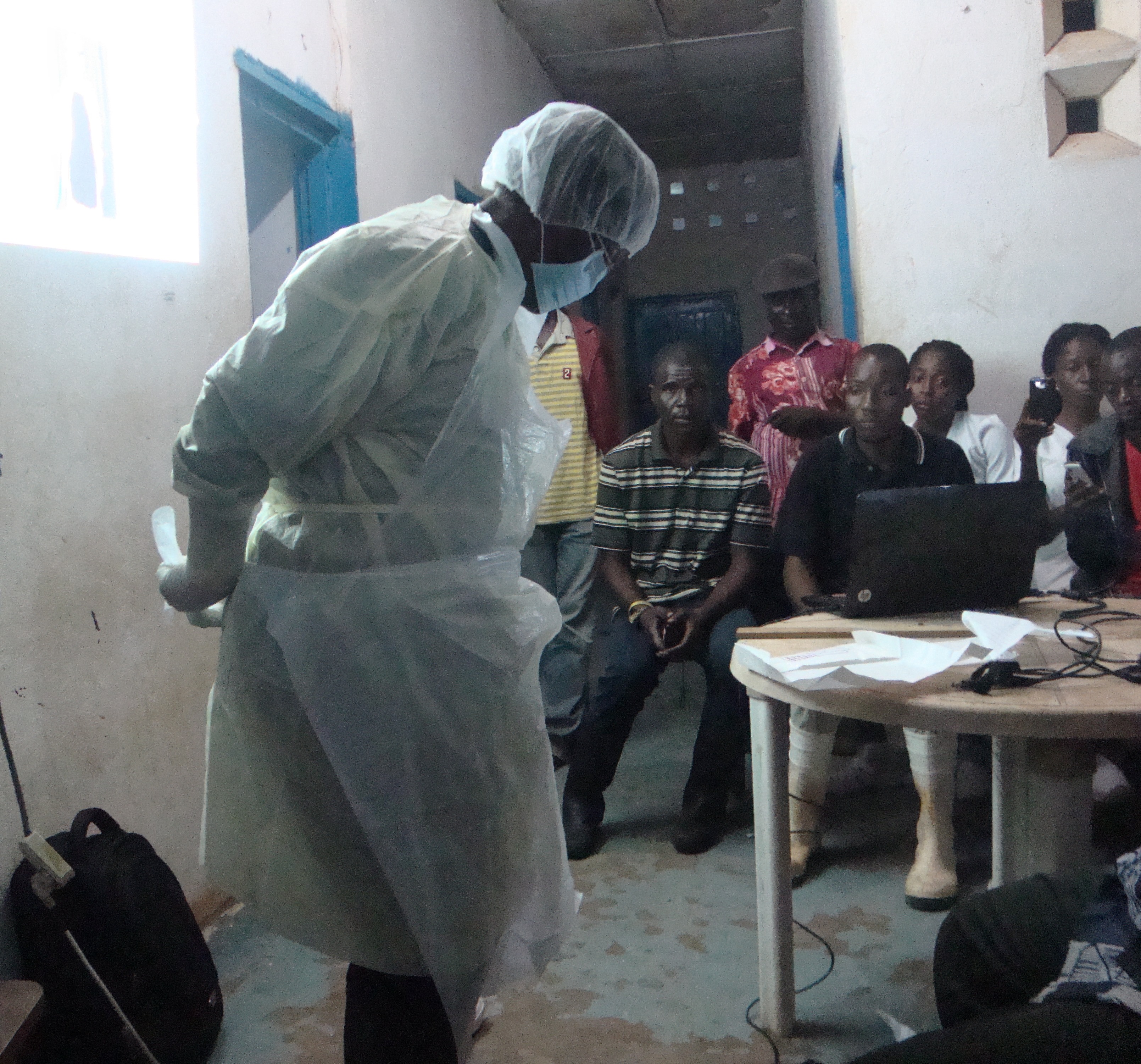 In a training of health care workers in Maryland County, Liberia, a trainer demonstrates how to properly put on and remove protective gear to prevent being infected with Ebola. The Rebuilding Basic Health Services project is coordinating the systematic training of frontline health care workers and trainers throughout the country.
**Update: JSI has been awarded a $3.8 million contract by USAID's Office of Foreign Disaster Assistance (OFDA) to improve infection prevention and control practices among health care workers throughout Ebola-impacted Liberia.
Read More
.
As Ebola continues to ravage Liberia and neighboring countries, the WHO announced this week the mortality rate has risen to 70% and the number of new cases could rise to 10,000 per week by December.
JSI has been working directly with the Liberian Ministry of Health and Social Welfare to support and guide the government's Ebola response efforts. Our staff are embedded within the Ministry of Health and work with Ministry staff everyday–helping make key decisions about training health workers in infection prevention and control, educating communities to protect themselves, streamlining logistics to keep track of the influx of personal protective and other equipment, and contact tracing.
JSI staff sit on national committees responsible for coordinating case management, health worker training, social mobilization, supply chain logistics, and contact tracing.
JSI's largest project in Liberia, USAID-funded
Rebuilding Basic Health Services (RBHS)
, is a main partner of the Ministry of Health in fighting Ebola. As the epidemic worsened in July 2014, JSI was asked by the Ministry of Health and USAID to transition all project activities to support the government's Ebola response full time.
Dr. Rose Jallah-Macauley, JSI's chief of party for RBHS, took on the massive task of coordinating the national training and support response for health workers.
"As the chief of party for the USAID-funded RBHS project, I've helped to steer an ongoing capacity-building initiative to tackle this urgent and complex emergency. Our ability to respond is based on the five-and-a-half years of experience training health workers and strengthening health systems at the central and county levels. This knowledge of the Liberian system's strengths and weaknesses has enabled us to perform … essential functions. This has been essential in light of this Ebola outbreak, the deadliest in Africa in the past forty years."
The trainings, adapted from the World Health Organization Ebola Virus Disease Outbreak Response Training Package, are designed to educate health care workers and facility staff to recognize suspected cases of Ebola and to protect themselves and others from transmission. JSI has now trained health workers in more than 300 facilities in Monrovia and Montserrado and Bong Counties, with plans to expand to all affected and bordering counties.
JSI is helping the Ministry of Health mobilize communities to protect themselves and safely care for the sick before their eventual transfer to Ebola treatment units. JSI staff will train 15,000 community mobilizers over the next three months.
JSI is also assisting the Ministry of Health's contact-tracing team to develop a standard contact list for patients and medical staff to complete. Developing as complete a network as possible helps health care workers locate those who are or might be infected and prevent them from spreading the disease.
"For now, the Ebola outbreak in Liberia continues," writes Jallah-Macauley. "But each day, more people are trained. Although JSI's RBHS project wasn't originally designed to directly combat a national and regional epidemic, its services and experience in the major affected counties and Ministry headquarters are essential to saving the lives of countless people, including the dedicated medical staff who treat those who are already infected. I'm immensely proud of my entire team, from accountants to those on the frontlines, who have banded together to tackle an incredibly daunting challenge that touches each of our lives."
Blog Posts
JSI staff have blogged from Liberia about the outbreak, the response, and their personal experiences during this unprecedented crisis. Read their articles on JSI's blog, The Pump:
Fighting the Ebola Outbreak: Report from Liberia by Dr. Rose Jallah-Macauley, RBHS chief of party
Ebola: We Can All Help by Zaira Alonso, RBHS finance and administration director
From the Frontlines of the Ebola Epidemic by Dr. Kumblytee L. Johnson
An effective international response to manage the Ebola epidemic and preserve the existing health systems is still needed by Merce Gasco, JSI senior technical advisor