Tanzania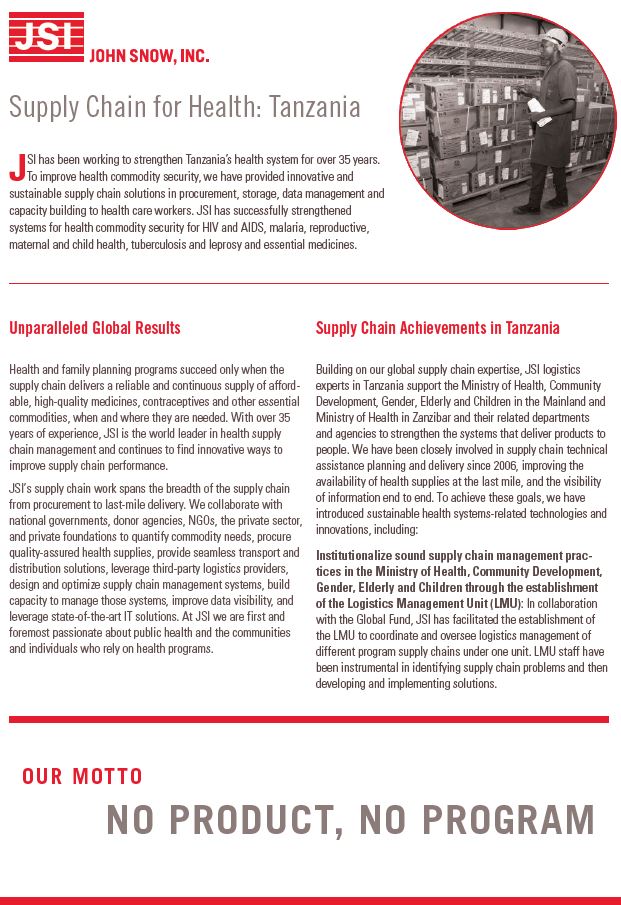 JSI's implementation of the Tanzania School Health Program in 1980 was one of JSI's earliest international projects, the success of which led to many subsequent JSI-led projects in the country, including USAID's Resources for Child Health (REACH) to increase access to immunization and improve treatment methods of acute respiratory infections in children. JSI has worked with the Tanzanian government, NGOs, public and private-sector institutions, applying its portfolio of experience and technical expertise to public health issues ranging from family planning to outbreak prevention.

Our current programming in Tanzania works to bridge the gap between the community health and social service sectors in support of improved health outcomes. JSI's Community Health and Social Welfare Systems Strengthening (CHSS) Program supports the Government of Tanzania's commitment to providing accessible, high quality health and social services to vulnerable groups, and to promote improved health equity, well-being, and protection outcomes for HIV-affected and other vulnerable populations.The program is working to build the size, quality, and sustainability of the community health worker (CHW) and social service worker cadres—and the systems which support them.

From 2011-2014, through the USAID-funded Maternal and Child Health Integrated Project, JSI provided technical assistance with the MOH/IVD and partners to introduce rotavirus and pneumococcal vaccines nationwide as well as to improve Tanzania's routine immunization (RI) program for each annual birth cohort of over 1.8 million children. JSI's technical support continues through the Maternal and Child Survival Program (MCSP), and JSI is providing technical guidance with RI strengthening and introduction of vaccines against rubella (through a two dose schedule using combined measles-rubella vaccine) and polio (IPV).
Read an April 2019 blog post from MCSP: Tanzania Deploys the Most Advanced Health Information Exchange in sub-Saharan Africa.

JSI is also providing immunization assistance in 3 regions and 10 poorer performing districts (that represented approximately 40%—150,000—of the under-vaccinated children in the country) to improve equity and quality of immunization services to help these infants to receive their full complement of vaccines. Through MCSP, JSI is also assisting with efforts to integrate and apply learning across the RMNCH spectrum as well as to strengthen the broader health system.This includes streamlining health monitoring and evaluation (M&E) in Tanzania, with MCSP/JSI serving as part of the secretariat steering committee to assist the Information and Communications Technology (ICT) unit in the M&E Division of the MOHSW with development of an Enterprise Architecture (in line with USAID's HSS support strategy) for improving RMNCH indicator tracking and reporting.

Through the USAID | DELIVER PROJECT and SCMS, JSI worked with the Ministry of Health and Social Welfare to strengthen the supply chain and ensure commodity security for all priority essential health commodities. A key strategy focused on implementing and strengthening the Integrated Logistics System (ILS) and related supply channels for family planning, HIV, and TB program commodities, including significant supply chain technical assistance to Medical Stores Department and district council health management teams. Learn how JSI helped map the country's road network to optimize supply chain logistics system and read the blog post about it on the USAID IMPACT blog.

Previously, JSI's technical assistance to the Elizabeth Glazer Pediatric AIDS Foundation's Project HEART, created a comprehensive system to monitor quality of care and services at HIV clinics.
Highlights