Supporting a Data-driven Transition in Ethiopia's Vaccine Supply Chain
In Ethiopia, responsibility for the supply chain for vaccine used in routine immunization programs has transitioned from the Federal Ministry of Health (FMOH) to the Pharmaceutical Fund and Supply Agency (PFSA). The transition shifts how vaccine moves in the system; in the new model, Hubs receive vaccines in refrigerated trucks each quarter and will deliver vaccines to lower levels of the system, increasing efficiency and ensuring the safety of vaccine in transit. Previously, regional and lower-level staff had to pick up vaccine from the level above.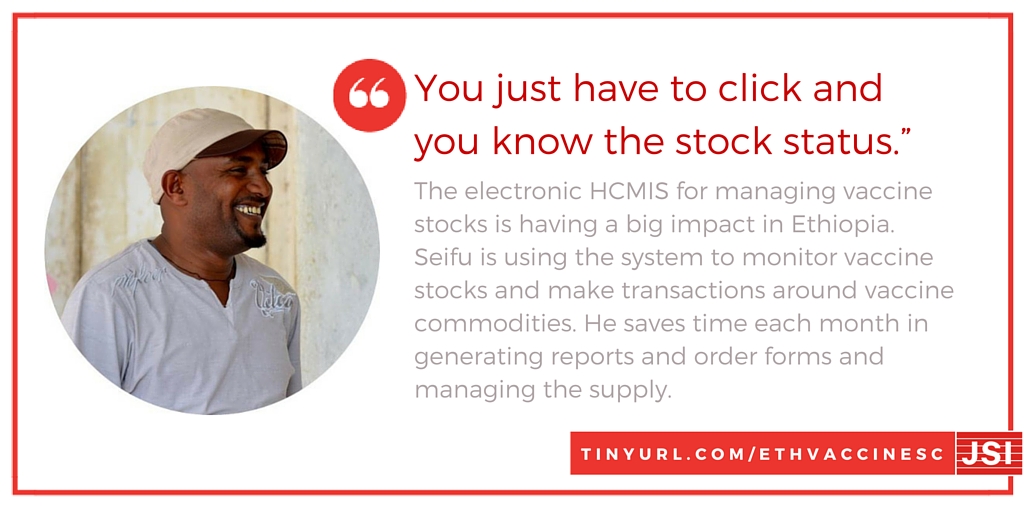 A national transition of this magnitude is not a small undertaking. To ensure a smooth transition, the process was led by PFSA, and engaged additional partners including FMOH, WHO, UNICEF, JSI, and the Clinton Health Access Initiative. With support from the Bill & Melinda Gates Foundation, JSI provided technical expertise in logistics, information systems, capacity building, and routine immunization to PFSA, and served as the Secretariat for the national Vaccine Transition Technical Working group.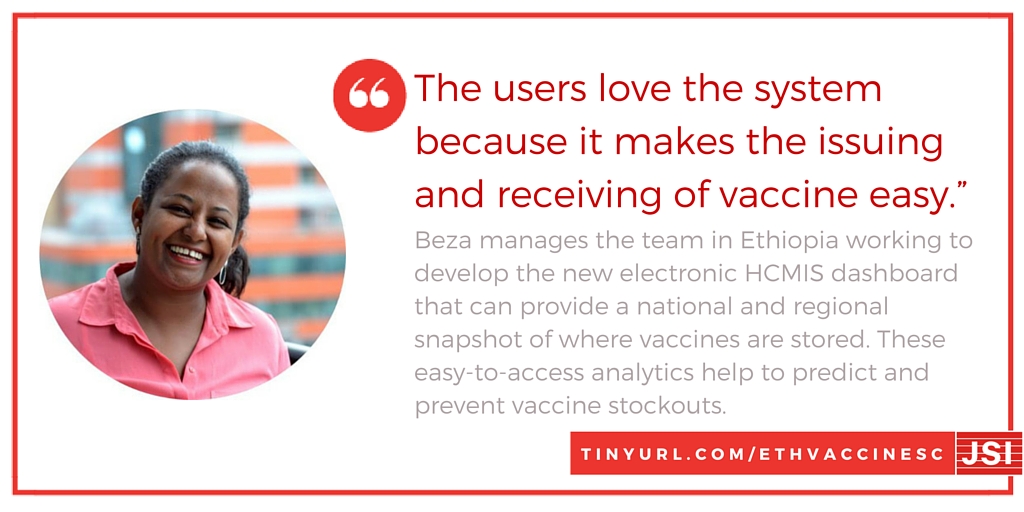 The transition is following a phased approach to minimize disruptions to the supply chain. As of July 2015, three PFSA Hubs are up and running, receiving vaccine via refrigerated trucks from the PFSA Center cold room and delivering to the zones or woredas in their catchment areas, and new Hubs are poised to start delivering routine vaccine. Thanks to new efficiencies in the routine vaccine supply chain, service providers can concentrate on what they do best—serving patients—while the logistics experts take charge of delivering supplies in good condition.
JSI's Paul Dowling and Ali Shiferaw blogged about the role of real-time data in transitioning Ethiopia's vaccine management system.
Read "From Supply Chain Analysis to Action: The Case of Ethiopia" at The Impatient Optimist.

Read more about the transition process in our
Notes from the Field
.