Empowering local leaders in Zambia to address the structural factors that drive HIV in their chiefdoms.
Zambia's high HIV-prevalence rate—estimated at 13.3 percent of people age 15-49 (2013/14 Zambia Demographic and Health Survey)—is compounded by high poverty levels, especially in rural areas, where poverty (one of 12 drivers of HIV/AIDS in Zambia) stands at 78 percent. In Zambia's 288 rural chiefdoms, where social, cultural, economic, and political factors combine to put people at risk of HIV, engaging people and particularly leaders is critically important to address the pandemic.

JSI empowered leaders to take initiative for both community development and a response to HIV and AIDS in their chiefdoms, rather than waiting for support to come from outside. People's ideas, experiences, and expectations informed all technical support processes—chiefs and their communities decided what they wanted to do and how they would do it. JSI's SHARe II project guided and supported and equipped them with the tools to take that initiative.

Chiefdom leaders now understand that structural factors such as poverty and gender inequalities drive HIV. By developing and sharing their goals and strategic plans to address these issues, chiefdom leaders have begun attracting significant support (financial and material) from partners, while also co-funding these processes and thus taking full responsibility and ownership.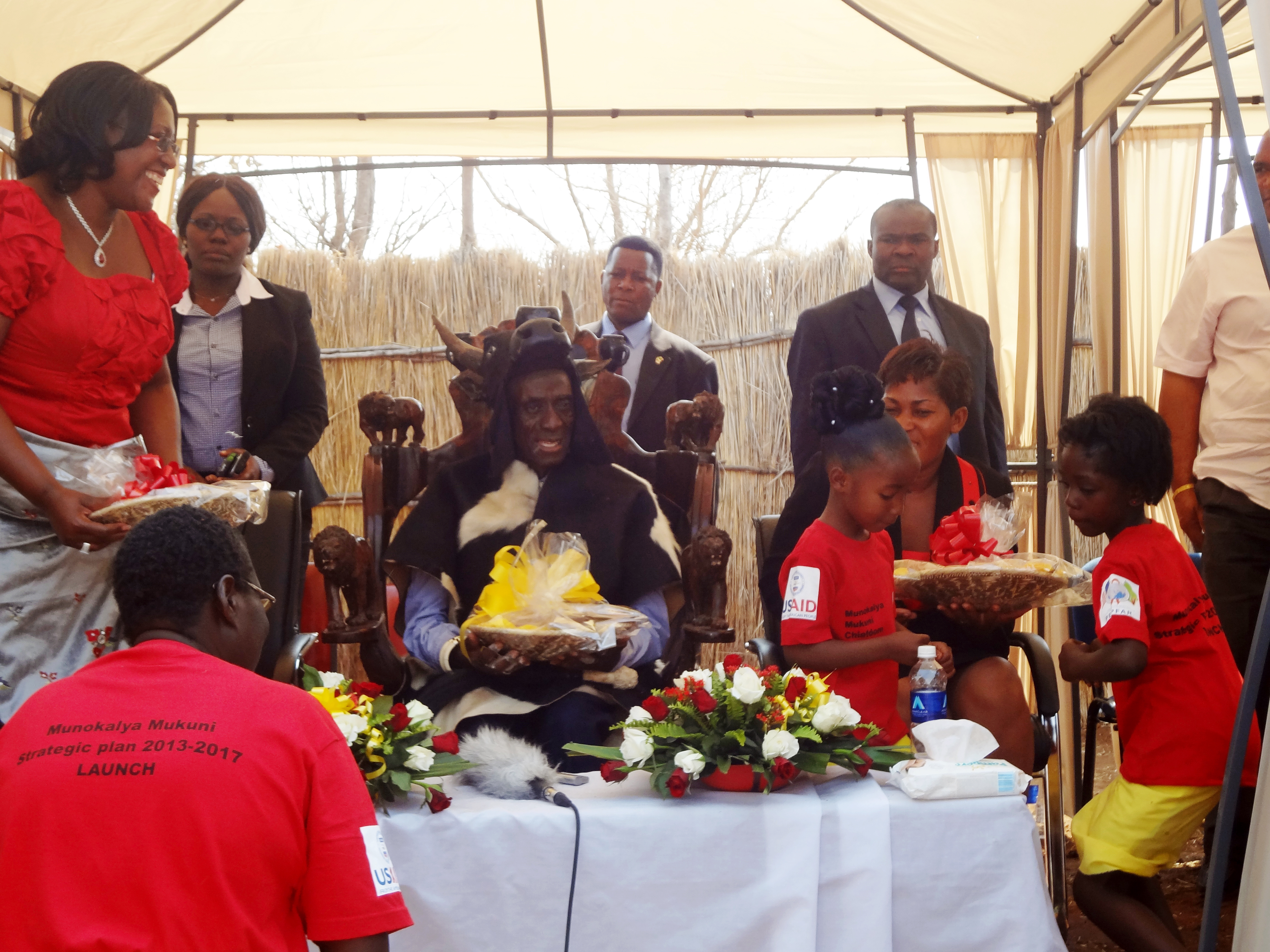 His Majesty, King Munokalya Mukuni (center) at the launch of his chiefdom's development as Her Royal Highness Ina Nkwazi (seated) and First Lady Dr Christine Kaseba (standing, in red) look on.

How Change Happened
At the core of JSI's engagement and partnership is a philosophy of relationships grounded in mutual respect and reinforced through shared responsibilities.

JSI's SHARe II project staff worked with 30 chiefdoms, which were selected based on high-HIV prevalence; areas least served by other HIV implementers; and gender (one-third of the selected chiefdoms were female-led).

Project staff held initial discussions and introduction workshops with partner chiefs. It became clear that chiefdom leaders accepted HIV as an unfortunate inevitability against which they were powerless.

The JSI team designed a three-phase package of HIV interventions tailored to the needs of each partner chiefdom to address developmental and poverty-related concerns, including HIV and AIDS.

The first phase assessed internal capacity to manage development, poverty alleviation, and local HIV/AIDS response. The second step was beginning community development action planning (CoDAP), a participatory strategic planning process for chiefdom development and poverty-reduction that integrates HIV and gender. Each CoDAP helped chiefs articulate their developmental aspirations and define the roadmap for achieving them.

These community engagement processes were the first time that chiefdom leaders had collectively discussed challenges such as HIV and AIDS and planned chiefdom development.

SHARE II provided techincal assistance to chiefs and other leaders to convey messages to promote uptake of HIV-related services, encourage behavior change for HIV prevention, and discourage harmful practices. Chiefs learned about women's heightened vulnerability to HIV and established HIV impact-mitigation measures such as ensuring widows have access farming inputs to prevent poverty and that orphans and vulnerable children remain in school.

SHARe II also helped develop community HIV/AIDS mitigation teams (HAMTs) to organize leadership platforms for HIV and AIDS messaging and to ensure that people are appropriately linked to services. Partner chiefdoms that have HAMTs have stronger community health systems and links to the formal health system.

Phase three linked chiefdoms to program support including a series of bottom-up community conversations that led to the formulation and enactment of chiefdom HIV/AIDS decrees. The impact of these decrees was significant and sometimes immediate, as subjects changed behavior to conform. Of the ten partner chiefdom supported to formulate HIV/AIDS decrees, all have outlawed sexual cleansing of widows/widowers, made VMMC a cultural norm for HIV prevention, and banned early marriages for girls; eight have made antenatal care compulsory to increase PMTCT uptake; and seven have increased punishment for GBV. There has been an overall reduction in behaviors that increase HIV risk, including sexual cleansing of widows/widowers, early marriage of girls, GBV, widow inheritance, and MCPs. Young married underage girls are being withdrawn from their marriages and taken back to school. And PMTCT and VMMC uptake have significantly increased.

SHARe II also supported improved legal protection of women and girls by training 86 percent of Zambia's customary local court magistrates to handle and refer the HIV-related cases brought before them. These structural interventions facilitate effective HIV programming.

Results

Where previously, HIV was acknowledged but not addressed, today, at chiefdom meetings, traditional ceremonies, and other public events, project-trained chiefdom leaders encourage people to access HIV services, promote high-impact HIV-prevention interventions such as condom use, voluntary male medical circumcision, couple HIV testing and counseling, treatment to prevent mother-to-child transmission of HIV, and antiretroviral therapy. They also discourage harmful practices like multiple and concurrent partners and gender-based violence.

The chiefdom justice system is better able to address HIV-related issues. Local court magistrates are now confident managing HIV-related cases, which has improved justice outcomes. And with the backing from chiefdom leaders trained in HIV&AIDS, gender, and human rights, magistrates now refer defilement and rape cases to higher courts.

JSI's SHARe II chiefdom HIV/AIDS Leadership intervention has been hugely successful on many fronts, including in increasing HIV service uptake and thus increasing the effectiveness of the national response to HIV/AIDS. JSI recognized that traditional leaders want to take development to their chiefdoms and improve the living standards of their people. We also recognized that traditional leaders are effective change-agents; their people respect them and listen to them. The SHARe II strategy to assist the chiefdoms to plan for development and integrate HIV&AIDS into development plans is a great innovation, which promotes local ownership of chiefdom HIV responses and thus, sustainability.

Learn more about the SHARE II project.





Related Project:
Zambia SHARe II: Support to the HIV/AIDS Response in Zambia (2010-2015)