Groundbreaking oral rehydration campaign in Egypt dramatically reduced diarrheal-related deaths.
Diarrhea was the leading cause of death among children under five in Egypt in the 1970s and early 80s. From 1982 to 1990, the National Control of Diarrheal Disease Project (NCDDP) and the Ministry of Health, with the assistance of JSI, implemented a nationwide program to promote the widespread use of oral rehydration therapy. By 1990, ORS was used by providers countrywide. There was a nearly 60% reduction—representing about 300,000 lives—in diarrheal disease mortality between 1983 and 1988, and diarrhea was no longer the leading cause of death among children under five.
Until the early 1980s, nearly half of all deaths among Egyptian children under five years old were caused by dehydration due to diarrhea. Yet a simple and very low-cost treatment was available; an oral rehydration salt solution that could be mixed with water and administered in the home. In 1982, JSI joined the Egyptian Ministry of Health to increase awareness, train health workers, and distribute the salts through the Egypt National Control of Diarrheal Diseases Project. As a result of JSI's work with Egypt's government, the number of diarrheal-related deaths in children had dropped by nearly two-thirds by the end of the decade. It was one of JSI's earliest, most successful projects

When the project began, the risk of dehydration in diarrheal disease was not well understood. Physicians recommended stopping breastfeeding and solid foods for infants with diarrhea. Children brought to doctors were often given inappropriate medications such as antibiotics. Oral rehydration therapy (ORT) was used in only 10 to 20 percent of diarrheal episodes.

The challenge facing JSI was to help the Egyptian government raise awareness of this life-saving therapy, train workers at all levels in the health system as well as parents, and once demand was established, ensure that the salt solution was available across all sectors of the community.

How change happened
To spread the word about this life-saving therapy, JSI wanted a way to reach the most people as quickly as possible. That medium was television. The program produced 63 television spots that used everyday language so people of all education levels could understand. Within just a few years of the campaign launch, research showed that virtually all mothers knew about ORT, and some 90 percent were able to mix ORT correctly.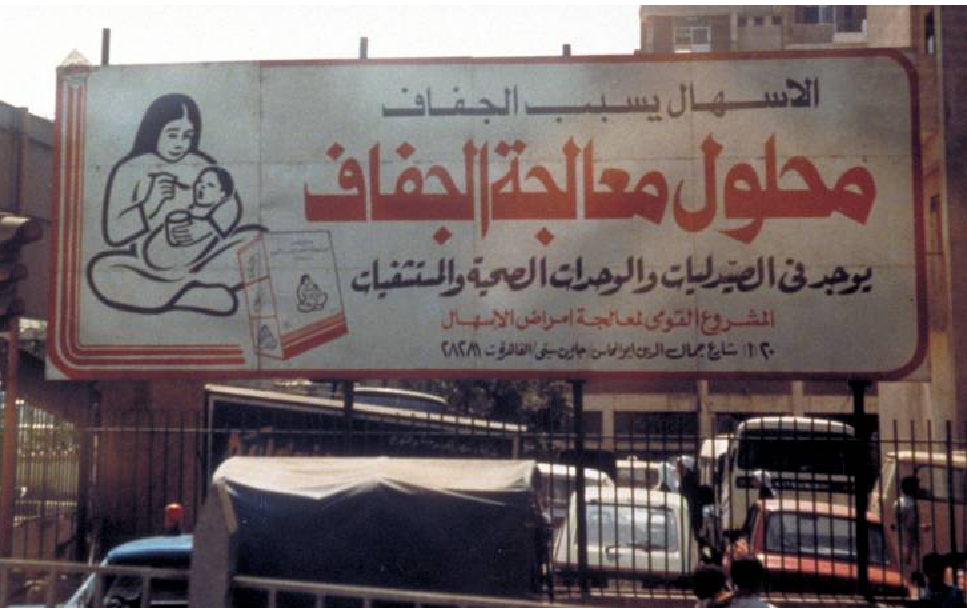 Billboard in Egypt promoting oral rehyrdation therapy
Social marketing for public education on health issues broke new ground. It was discovered that TV could be used not only for motivation, the usual goal of social marketing, but also for the instruction of mothers.

Contrary to the results of many other social marketing programs and to the conventional wisdom, the less educated segments of the Egyptian population adopted the innovation faster than more educated groups because of the effectiveness of the TV campaign.
Training health workers was integral to the program, given the traditional approach to diarrheal disease and dehydration which was counterproductive. Physicians were initially skeptical: The solution called for treating the symptom not the cause, which went against their basic training. But in response to strong demand from mothers as a result of the promotional campaign, health care providers began changing their case management practices. Ultimately, JSI successfully trained more than 40,000 physicians, nurses, pharmacists, and government officials in ORT, set up 6,000 ORT stations in health facilities, and established 30 rehydration training centers.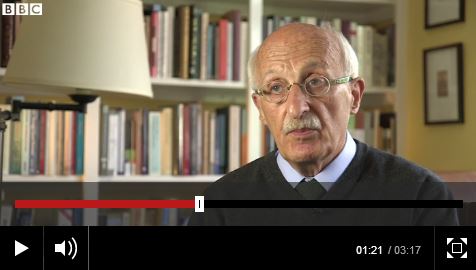 WATCH: JSI's Dr. Norbert Hirschhorn was part of the team that pioneered the use of oral rehydration therapy to prevent death caused by diarrheal disease. In an interview with BBC News, Dr. Hirschhorn reflects on the science and practice behind the health intervention that has been credited with saving over 50 million lives.
Diarrheal disease control through oral rehydration therapy is now a fully integrated and sustainable part of the Ministry of Health's activities, continuing to save the lives of infants and children across Egypt. The initiative was named one of 10 public health innovations in the Millions Saved case study series produced by the Center for Global Development.

Learn more:
Best practices in Scaling-Up