HIV Prevention Goes Social: Using Social Media to Connect, Create, and Come Together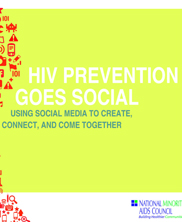 In May, 2011, The National Minority AIDS Council (NMAC) contracted with JSI to develop "HIV Prevention Goes Social: Using Social Media to Connect, Collaborate, and Come Together." Working in close collaboration with NMAC, JSI produced a 40-page toolkit, published in August 2011, introducing concepts underlying social media and how they have been used to promote healthy behaviors and community building. Major platforms and tools (social networking, blogs, wikis, video, photo sharing, etc.) were detailed, with examples of social marketing and health campaigns used to illustrate how these tools are used in everyday practice.
The document emphasized taking a strategic approach to integrating social media into existing efforts, with activities included to help guide users in thinking through goals and objectives. To provide real life examples of how other community based organizations have leveraged social media, interviews were conducted with local and national AIDS Service Organizations. The resulting case studies and quotes clearly demonstrate different ways social media is used by community-based organizations to create a more authentic, community centered approach to promoting sexual health. Samplin-Salgado, M., Sperber, J., Costello, E., JSI, 2011.
Download (PDF, 5.03 MB)