Immunization
Immunization has the power to save millions of lives, but vaccines are only as effective as the systems that deliver them.
Immunization is recognized in virtually every country as an essential health intervention. With the increasing availability of ne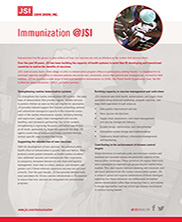 w vaccines against common lethal diseases, the combined power of both traditional and new vaccines has the potential to avert almost one fifth of deaths in children under five.
With over 30 years of experience building the capacity of health systems in more than 55 countries to realize the benefits of vaccines, JSI is a global leader in immunization, helping to translate policies into action and, conversely, ensure that policies and strategies are informed by field realities.
As the world aims to meet global health goals, JSI is helping to shape immunization policies and strategies in close partnership with the World Health Organization, UNICEF, GAVI, and ministries of health. Through our participation in global working groups and committees, we are able to infuse the strategic and operational plans of key partners with practical, on-the-ground experience in strengthening routine immunization systems.
We provide a wide range of technical services in immunization, additionally drawing on our deep expertise in maternal, newborn, and child health, supply chain management, health information systems, and applied technology.
Our key areas of expertise include:
Community Linkages
Data Quality Improvement and Use
Supply Chain Assessment and Optimization, Cold Chain, and Vaccine Management
Information Systems Design and Monitoring
View a comprehensive list of resources related to JSI's work in immunization
.
View an interactive timeline showcasing JSI's 30 years of work in immunization.
Highlights